Vacuum Sealer V-460 Series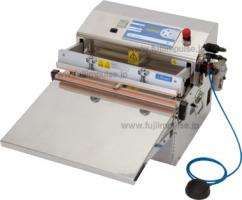 Electric-powered tabletop vacuum sealers with heat temperature control.
Different options for vacuum pump available. Operates using the solenoid-drive system. Compact tabletop model capable of creating a vacuum-seal width of 46cm (18 inches).
The picture shows the nozzle extended at 10mm.
The picture shows the nozzle extended at 80 mm (maximum extension).
Main Features
| | |
| --- | --- |
| Applications & Features | Tabletop/electric vacuum sealer |
| Operating method | Electric, solenoid-drive system |
| Packaging type | Seal only & vacuum |
| Daily use frequency as model selection guideline | 1,000 bags, electric |
| Bag size (max.) | 46cm / 18 inches |
| Latest type | Type A |
Compatible packaging materials (total thickness of two or more sheets):
Single-side heating type:
PE : 0.3mm/11.8mil
PP : 0.3mm/11.8mil,
NY : 0.3mm/11.8mil,
PVA : 0.3mm/11.8mil,
Other laminated materials : 0.3mm/11.8mil
Double-side heating type:
PE : 0.4mm/15.7mil
PP : 0.4mm/15.7mil,
NY : 0.4mm/15.7mil,
PVA : 0.4mm/15.7mil,
Other laminated materials : 0.4mm/15.7mil
Overview of V-460 series
The V-460 series is a line of tabletop vacuum sealers, effective for maintaining perishable and other food products fresh and preventing the oxidation of items such as parts, apparel, chemicals and precision equipment.
All V-460 sealers come equipped with the ONPUL heating temperature control system that allows users to set and maintain an ideal heating temperature, and have an easy-to-maintain solenoid-drive system. They are also compact and allow you to achieve reliable vacuum seals and packaging with a simple operation.
In addition, you can choose the vacuum generator and adjust the length of the vacuum nozzle according to your situation and purpose.
Easier maintenance with a solenoid-drive system
These sealers are equipped not with an air-drive system but a solenoid-drive system that makes use of electromagnetic force.
No filter maintenance work because the air-drive system is not equipped with a dry filter, which requires periodic replacement, thus reducing everyday maintenance work.
No costs for an external air piping system to feed air, and reduced costs for purchasing parts that require periodic replacement, as there is no dry filter that need to be replaced.
The solenoid-drive system not only makes maintenance easier, but allows you to reduce the total cost, including those for maintaining the machine and the sealer.
Dry filter is needed for the air-cylinder-drive system because some compressed air generated by the compressor turns into water droplets, which must be removed with the dry filter.
Use of I-heating element
Use of I-heating element, which expands relatively little when heated, reduces the chance of the heating element breaking in the middle. Its use also prolongs the life of peripheral components such as the temperature sensor that comes in contact with the heating element.
Adjustable nozzle length
To accommodate vertically long bags, the length of the nozzle can be adjusted in eight-step 10 mm increments from 10 mm to 80 mm.
From the left, pictures show the nozzle completely retracted, the nozzle extended at 40 mm, and the nozzle extended at 80 mm.
Standard-equipped with temperature control system
ONPUL
Seal heating temperature: 60 to 250ºC/ 140 to 480˚F
Seal cooling temperature: between 40ºC/100˚F and the seal-heating temperature
Setting the ideal sealing condition
The most prominent feature of the ONPUL system is the ability to set the ideal sealing condition.
The heating temperature setting is made possible through the use of a high-sensitivity temperature sensor for temperature control, and a microcomputer controller.
Easy-to-operate microcomputer controller
The microcomputer controller is used to select the work method and vacuum method, and to set sealing conditions. The touch screen makes the setting easy, and the LCD screen allows you to review the setting as needed.
Switch among 4 different sealing methods
The following sealing methods can be combined to create a total of 4 different sealing methods. Select a sealing method to meet your needs, including selecting to best suit the characteristics of the packaged material and to obtain your desired packaging finish.
Work method options
Vacuum + Seal
Seal only
Vacuum method options
Vacuum guage
Vacuum timer
Manual operation
4 types of sealing methods

Seal only
Vacuum by manual + Seal
Vacuum by timer + Seal
Vacuum by vacuum gauge + Seal
Register up to 10 work patterns
The user can register up to 10 customized work patterns. By calling up a registered pattern on the microcomputer controller, the user can always perform a programmed work under the same condition.
Troubleshooting using the help function
Switch to the Maintenance Mode on the LCD screen to see any troubled spots on the machine indicated by a blinking light. This function enables an early detection of problems that need to be addressed.
Adjustable table height and angle
The height and angle of the table, which comes standard-equipped, can be adjusted to suit the package content.
Standard-equipped with air filter
All V-460 sealers come with an air filter that removes moisture, fine powder, and foreign objects that are suctioned through the nozzle.