Vacuum Sealer V-300 Series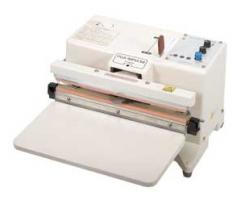 Compact table top vacuum sealer can increase the life of food and prevent oxidation of metal parts
Photo of V-300
Photo of V-300-10D
Main Features
| | |
| --- | --- |
| Applications & Features | Tabletop/manual vacuum sealer |
| Operating method | Hand-operated |
| Packaging type | Seal only & vacuum |
| Daily use frequency as model selection guideline | 1,000 bags, electric |
| Bag size (max.) | 30cm / 11.8 inches |
| Latest type | Type F |
Compatible packaging materials (total thickness of two or more sheets):
Single-side heating type:
PE : 0.4mm/15.7mil
PP : 0.3mm/11.8mil,
NY : 0.3mm/11.8mil,
PVA : 0.3mm/11.8mil,
Other laminated materials : 0.4mm/15.7mil
Double-side heating type:
PE : 0.6mm/23.6mil
PP : 0.4mm/15.7mil,
NY : 0.4mm/15.7mil,
PVA : 0.4mm/15.7mil,
Other laminated materials : 0.5mm/19.7mil
Vacuum pump de-airing
The built-in vacuum pump is capable of achieving: Exhaust speed of 10 liter/min. and ultimate vacuum of −58.6kPa.
Note) The exhaust speed and ultimate vacuum represent stand-alone values, before installation to the machines. The Otorr of the ultimate vacuum is −101.3Pa.
Simple Operation
Pull the nozzle lever toward you to extend the nozzle. Insert the nozzle into the bag, push down on the table, and while the bag and the nozzle remain clamped under the clamping lever, press the vacuum button to begin the vacuum process.
The vacuum time may be set using a timer. You may also vacuum using visual estimation. Simply return the nozzle lever to the initial position to complete the vacuuming process.
Good also for supplying air
You can also supply air to the bag by replacing the IN hose with the OUT hose on the vacuum pump.
For sales counters
The light-weight V-300 series of sealers features a clean, off-white, compact body ideal for placing on the counter.
Standard-equipped filter
A filter for collecting foreign objects that were taken in from the nozzle comes standard-equipped. The easily detachable filter case makes the required regular cleaning of the filter easy.
Good for a variety of applications
V-300 is effective for maintaining perishable and other food products fresh, and for preventing the oxidation of items such as parts, apparel, chemicals and precision machinery.
To produce an oxygen-free packaging to double the preservation effect, use a high-gas-barrier packaging material along with an oxygen scavenger.