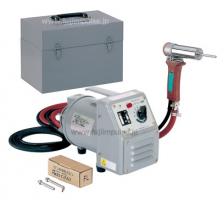 NEW SUPER 300 / Hot Air Welding Unit for Thermoplastics
High performance to improve work efficiency
Features a non-lubricating rotary blower
Compact and easy-to-carry
Includes the light-weight and easy-to-hold FL welding gun
Stainless steel is used in high-temperature areas
Main Features
Good for continuous work over extended time.
Because no lubricant is required, maintenance is easy and no oil is contained in hot air.
The motor, rotary blower, transformer and switchboard all fit in the compact main unit, making transportation easy.
The use of a condenser motor and no starting switch means fewer failures and longer product life.
Stainless steel is used in high-temperature areas of the lightweight welding gun to withstand long-term use. (FL gun comes standard-equipped)
The gun grip that isolates the FL gun's body pipe from the air cock prevents the user from receiving electric shock from the air cock at hand.
Used in the following industries and more
Plastic processing, water-service works, pipe works, water-supply and wastewater pipe processing, sheet metal works, building works, vehicle manufacturing, shipbuilding, electric works, vehicle interior processing, ship interior processing, store interior processing
Usage examples include
Welding, processing and repairing various PVC materials, fabricating various containers such as box-shaped tanks, plumbing, and fabricating duct-lining, modified joints, plastic displays and signboards